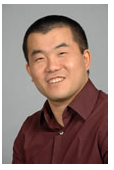 hmkim@yorku.ca
 | (416) 882-8748
Curriculum Vitae | Google Scholar | PDFs of Recent Works
Prof. Kim is a leading expert in the development of ontologies for enterprise modelling. He gained expertise conducting research on the Toronto Virtual Enterprise (TOVE) project, a world-renowned investigation into developing Artificial Intelligence based enterprise systems involving global partners like BHP Steel, Bombardier, and Oracle.
Before and while completing his dissertation on Ontologies for Quality Management, Prof. Kim worked in Canada for Hewlett Packard, as well as in Silicon Valley for a startup software services firm that is now part of JDA Software. After receiving his PhD in Industrial Engineering from the University of Toronto, he joined the faculty of the Schulich School of Business at York University in Toronto Canada. He is currently an Associate Professor of Decision Technologies there, and has taught MBA, undergraduate, and executive  courses in Information Systems, Data Science, and Complex Adaptive Systems.
Prof. Kim has received over $500,000 in external research funding and currently holds multiple Natural Sciences and Engineering Research Council (NSERC) of Canada Grants. In addition, he has received numerous research awards from sources including IBM Canada, York University, BHP Steel, BT Telecom in the UK, and the Santa Fe Institute.
He has authored nearly 50 refereed publications in journals such as the Communications of the ACM, Journal of the Association of Information Systems, and Information Technology and Management. He sits on the Editorial Boards of INFORMS Service Science, International Journal of Semantic Web and Information Systems, and Decision Analytics. Prof. Kim has been involved in consulting and professional services engagements with clients as varied as Town of Markham, China National Tobacco Company, George Brown College, Certified General Accounts of Ontario, Environics Research, and the Bank of Montreal.
Prof. Kim is a committed educator of management students and managers, as well as ontologists and data scientists.